Why do you
need Migration?
What could be the future of your growing product? Well, it is highly dependable on performance, usability, uniqueness, precision, efficiency, and security of course. But with the increase of the rat race every year in the digital market, the ever-evolving technologies need to stay competitive. That's why Blue Copper asks to embrace digital transformation with our technology migration services.
With our 100 years of collaborative experience, we have provided our partners and stakeholders with the best technology stack, by re-engineering and re-architecting their legacy systems.
We offer secured migration services with a thorough analysis process. As a technology migration service provider we keep you updated, well-maintained, and above all the competitors. There's nothing our certified technology migration experts can't do!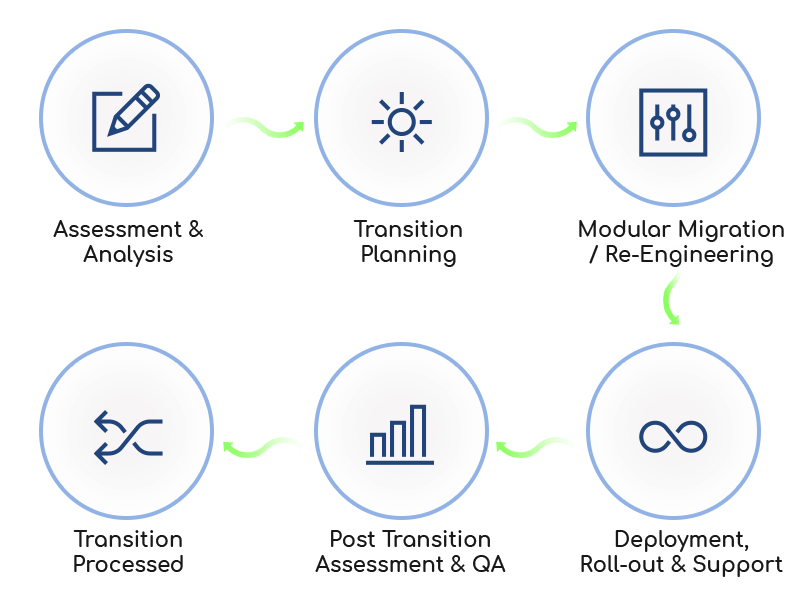 Blue Copper's Tech Migration Approach

- Save Cost
Save on the recurring cost of migrating a current system from licensed software to an open-source platform.

- Business Expansion
Help in the expansion of your business through system upgrading to the latest technology platform.

- Data Security
Improve the data security of your existing application/ legacy systems to protect possible threats.

- More Scalability
Empower scalability and availability of data with analytics overview.
Application
Migration
We re-engineer and modernize your old legacy systems and put life into it. If you have an existing desktop application with critical business problems, coded in an uncommon language and you hardly get support for it, we got your back! Migrate to the latest framework of your choice in a planned process with us!
Data
Migration
Data Migration Services of Blue Copper is a key element to adapt to a new system. We consider both data volume and data value before taking any strategic move with different tools, data adaptors for data migration services across various database platforms.
Platform
Migration
Several monolithic applications designed to run with the static configuration in the on-premise private data centers. These applications can benefit from the agility and scalability. Our platform migration services are one of the strategic moves to measure the limits of your software.
Challenges in Technology Migration
Disruption of mission-critical applications
Obsolete Technologies
Understanding the existing deployment components
Automate Data Migration process
Users are resistant to change
Absence of Latest and Updated Source Code
Lack of documentation and Information
How Blue Copper Handles It
Detail Requirement analysis
Impact analysis both on data and system
Risk assessment and mitigation planning
Strategy and planning for quick and soft switch-over
Assuring full intact business continuity
Complete and detail documentation for future reference
Have a business problem to discuss? Talk to our experts for 30 minutes for Free.