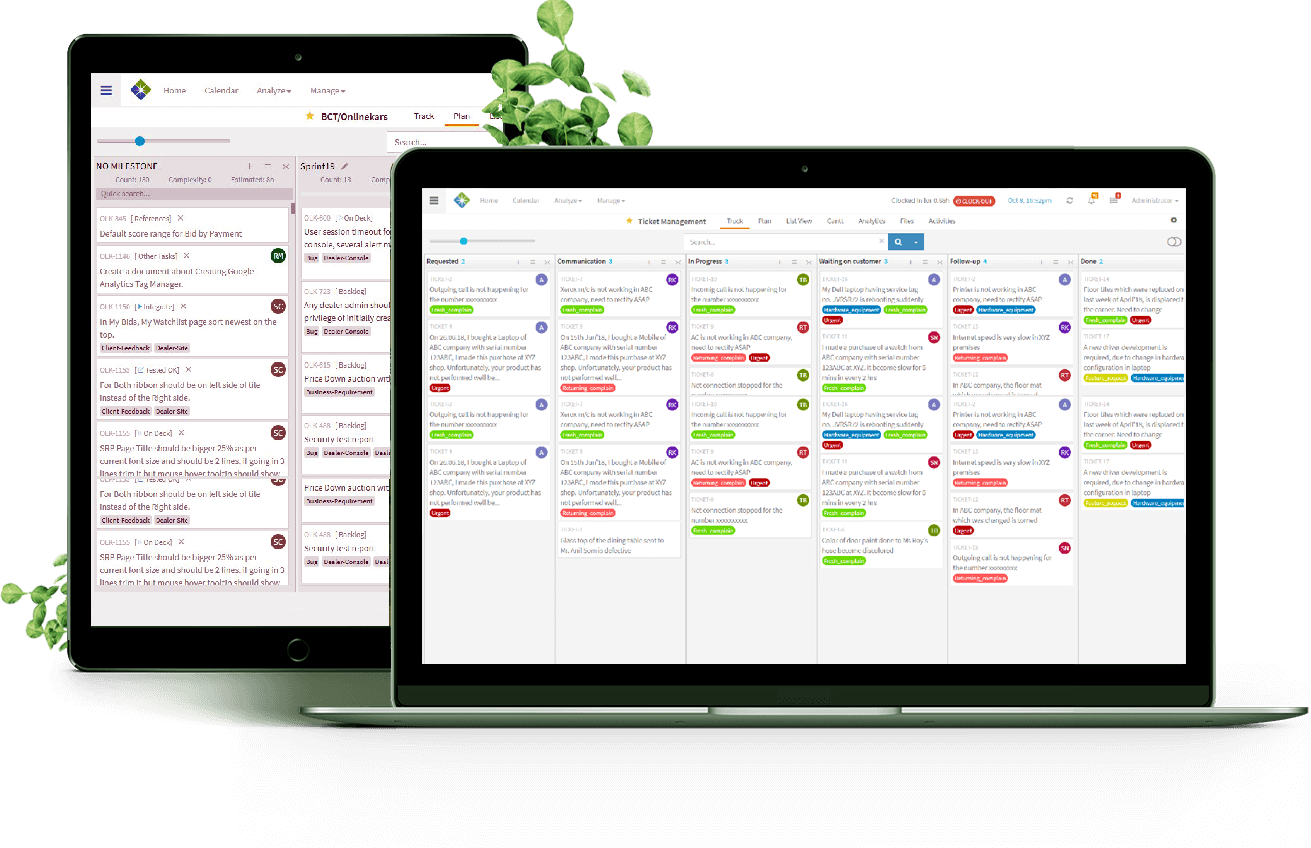 Stick to your
agile practices
Working on projects or collaborating as a team was never as much fun or as easy as it is with 'Optimore'. It is an agile, adaptive, and uninterrupted process management framework. It has project-wise boards consisting of customizable bays wherein teams can incorporate their projects: set-up, manage and optimize their project activities, collaborate, monitor, and trace the project life cycles and their comprehensive work-flow. It resides on a strong platform of analytical algorithms. Using robust back-end analytical algorithms and machine learning techniques, teams may derive a visual representation of the good, the bad and even the ugly with crisp recommendations on project planning, estimations, costing, deployment, team formation, collaboration strategies, dependencies, occurrences, etc. This tool comprises of various utilities which eases delivery teams' lives while adopting agile practices. Greater control on deliverables, clearer management perspective on delivery mile-stones, ease, and flexibility in accommodating changing customer requirements and priorities, ease of team and document collaboration, improved quality of output, quicker time-to-market and stronger return-on-investment are the primary benefits that project delivery and product engineering teams derive out of 'Optimore'.
Save your Time
TASK MANAGEMENT
Estimation
Project Planning
Task Monitoring
Time & Expense
Project Health Monitoring
Make Right Choice
RESOURCE MANAGEMENT
Attendance
Leave
Recruitment
Appraisal
Don't Work Hard
SMARTER WORKFLOW
Easy Approval & Better Communication
Less Training & Adoption time
Employee Location Tracking
Time & Expense Tracking
Power of Analytics
PREDICTIVE ANALYTICS & RECOMMENDATION
Recommendation Engine
Data Gathering
Simplest Feedback
Report Analysis
Common Problems for Business Owners
Trouble managing tasks with complex workflow
New Task estimation & lack of visibility of deadlines
Managing Mid-project adjustments
Lack of project management practices
Tracking remote team members
Poor communication between teams
Workload monitoring for team & individuals
Knowledge sharing among team members
No single source of truth
Optimore Solution for your Business
Easy approval and better communication process
Easy to use and build to cater exactly what you need
Easy evaluation of employee activities
Minimum training & adoption time
Much cheaper than heavy-duty BPM software
Real-time visibility with proactive notifications
Realistic estimation of project time & cost
Data-driven recommendation & advanced analytics
Easily map the project flow and the project tasks
Have a business problem to discuss? Talk to our experts for 30 minutes for Free.